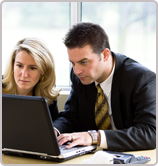 Virtualization Benefits:
Lower number of physical servers means you can reduce hardware maintenance costs.
By implementing a server consolidation strategy, you can increase the space utilization efficiency in your data center.
By having each application within its own "virtual server", you can prevent one application from impacting another application when upgrades or changes are made.
You can develop a standard virtual server build that can be easily duplicated which will speed up server deployment.
You can deploy multiple operating system technologies on a single hardware platform (i.e. Windows Server 2003, Linux, Windows 2000, etc).
Virtualization Process:
Evaluate your current server workloads
Determine whether virtualization can help you and figure out what your potential virtualization use cases might be.
Define your system architecture
What form of virtualization will you use and what kind of use case do you need to support?
Select your virtualization software and hosting hardware
Carefully evaluate the virtualization software's capabilities to ensure that it supports your use cases. Be sure to look at the new virtualization-enabled hardware systems.
Migrate your existing servers to the new virtualization environment
Decide whether some of the new migration products can help you move your systems or if you need to move them manually. In either case, create a project plan to ensure everything is covered
Administer your virtualized environment
Decide whether the virtualization product management tools are sufficient for your needs or whether you should look to more general system management tools to monitor your environment.