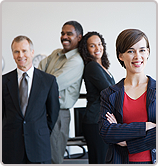 Why your company should use a Managed Service Provider:
In today's changing business environment, it is often more cost effective and time efficient to bring in certified consultants to plan and deploy projects. Amoskeag Network Consulting Group, LLC not only leverages our industry experience and expertise, but also uses our strong industry partnerships to offer customers the best possible value. Our IT consulting solutions help our customers with business planning and organization including:
Increasing productivity
Reducing costs
Improving resource utilization
Expanding IT capacity
What We Do:
Manage and monitor desktops, servers and networks
Install, manage and update virus, spam and spyware/malware software (security)
Install and manage software updates and patches
Back up servers and workstations
Install and manage firewalls
Host your email in our data centers
Virtualization Benefits:
Lower number of physical servers means you can reduce hardware maintenance costs.
By implementing a server consolidation strategy, you can increase the space utilization efficiency in your data center.
By having each application within its own "virtual server", you can prevent one application from impacting another application when upgrades or changes are made.
You can develop a standard virtual server build that can be easily duplicated which will speed up server deployment.
You can deploy multiple operating system technologies on a single hardware platform (i.e. Windows Server 2003, Linux, Windows 2000, etc).
Virtualization Process:
Evaluate your current server workloads
Determine whether virtualization can help you and figure out what your potential virtualization use cases might be.
Define your system architecture
What form of virtualization will you use and what kind of use case do you need to support?
Select your virtualization software and hosting hardware
Carefully evaluate the virtualization software's capabilities to ensure that it supports your use cases. Be sure to look at the new virtualization-enabled hardware systems.
Migrate your existing servers to the new virtualization environment
Decide whether some of the new migration products can help you move your systems or if you need to move them manually. In either case, create a project plan to ensure everything is covered
Administer your virtualized environment
Decide whether the virtualization product management tools are sufficient for your needs or whether you should look to more general system management tools to monitor your environment.
Daily Monitoring Services:
Request fulfillment : Providing users with the power to request and source services and assistance.
Access management : Controlling identity management, confidentiality, availability and integrity of data and intellectual property.
Problem management : Minimizing problems, eliminating recurring problems, and minimizing the impact of problems that cannot be prevented.
Proactive monitoring : Detecting early signs of malfunctions and alerting support staff.
Incident management : Resolving unplanned interruptions as fast as possible to prevent damage to business operations.
Strategic Development of the IT Department:
Financial management : Amoskeag Network Consulting Group, LLC works with its clientele to plan and budget for all future IT related needs. This allows our clientele to forecast future expenses and understand the importance of maintaining a healthy IT infrastructure.
Service portfolio management : Proactively managing the IT investment from concept and design to transition.
Demand management : Understanding and influencing customer demand for services and providing the correct capacity to meet these demands while ensuring cost efficiency and value creation.