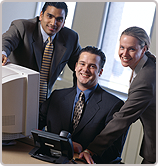 "We have been working with Amoskeag Network Consulting Group, LLC since Jim started the business. I can't say enough about the service they provide. The staff is professional, knowledgeable and a pleasure to work with. It is reassuring to know that when you run into a problem they will work on it until the problem is resolved. I would not hesitate to recommend them to any company that is looking for a reliable, professional group to provide IT services for their companies."
-Tech Support Specialist,  State Employees' Association, SEIU, Local 1984
"Amoskeag Network Consulting Group, LLC has not only saved me time to focus on growing my business, but they provide me with peace of mind knowing that my IT issues will be handled professionally and my business files are backed up properly. The team is patient and willing to go above and beyond to service our needs!"
-Director of Finance, Live Oak Construction Supply, Inc.
"We were looking to outsource management of all IT functions of our network and workstations to include servers and workstations. With Amoskeag, we found peace of mind knowing they are monitoring our systems 24/7. Jim and his team react quickly when we have network issues, and their support staff always provides a timely resolution. Their staff has made recommendations to improve our network structure making it more secure, robust, and efficient. They have become an extension of our operation and a trusted resource for any IT related question. I highly recommend Amoskeag Network Consulting Group, LLC."
-Owner, Profile Inspection Services, Inc.
"Jim and his staff at Amoskeag are top notch! They are extremely knowledgeable not only in every area of my physical network (servers, PCs, notebooks, printers) and Windows programs/apps, but also in how my ERP system, Epicor Prophet 21, functions. They have helped me develop and implement a Disaster Recovery/Backup plan, improved speed on my servers, workstations and ERP system and migrated us seamlessly to an Office 365 and Windows 7, then 10, platforms. The expertise of the staff has saved me countless hours of research and trial and error, and helped me out of countless jams. Amoskeag is an invaluable addition to our daily working productivity. Most recently, they helped us with the technical aspects of launching a new website, for our sister company, on a Magento platform with full integration with our ERP system using Epicor Commerce Connect (ECC)."
-IT Director, Ohio Tool Systems, Inc.
"Amoskeag has been an important partner in our growth as a company. Being a small business, we've often struggled with the justification to have a full time IT professional in house. Amoskeag made the decision easy and we've never looked back. They're always quick to respond, often times in just a few minutes. We don't have to worry about whether or not our technology is going to slow us down in our day to day operations. They're very forward thinking and proactive, making suggestions that keep us current with our technology and ready for the future. Knowing we've got their support, our management group can focus on our business and comfortably leave our IT concerns in the hands of Amoskeag."
-Manager of Operations, Air Specialists, Inc.