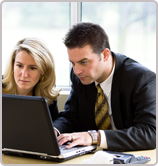 ANCG, LLC is one of the leading IT outsourcing, virtualization and cloud services providers, serving small and mid-size businesses having more than 30 years plus year's experience. While our size gives you comfort that we'll be here for the long haul, we also know that you demand and deserve great service and responsive support. That's why, with ANCG, LLC, you'll get everything you need from an IT outsourcing, virtualization and cloud services provider at the right price. At ANCG, LLC, we're about keeping you up and running, resolving problems quickly, providing personal attention and providing you with reliable IT support when you need it.
We've been fortunate enough to be recognized for our outstanding IT services and IT support. A few examples include:
Virtualization of infrastructures using VMware and Hyper V for several companies from NH to Florida
Site to site VPN setup utilizing both Cisco and Sonicwall Partnerships
Cat 6 Re-wire with certification
Door to door company infrastructure moves
Cost saving ISP changes
VOIP Phone system using the latest Cloud technology.
Hosting of SQL Databases for Disaster recovery.
Contact Amoskeag Network Consulting Group, LLC to learn more about our IT outsourcing services.