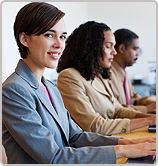 Daily Monitoring Services:
Request fulfilment : providing users with the power to request and source services and assistance.
Access management : Controlling identity management, confidentiality, availability and integrity of data and intellectual property.
Problem management : minimising problems (the cause of incidents), eliminating recurring problems and minimising the impact of problems that cannot be prevented.
Proactive monitoring : detecting early signs of malfunctions, alerting support staff.
Incident management : resolving unplanned interruptions as fast as possible to prevent damage to business operations.